Obalon Gastric Balloon in Mexico
Obalon Gastric Balloon Procedure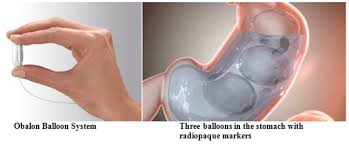 Intragastric balloon devices are currently being used in many countries as alternative/preliminary to bariatric (weight loss) surgery for the management of obesity. The devices have the relative advantages of being cheaper, readily available, reversible and non-invasive when compared with bariatric surgeries. They have been found to be useful regarding weight loss and resolution of comorbid conditions.
Although bariatric surgery remains the most efficient way of managing morbid obesity and obese patients that have failed to respond appropriately to dietary and lifestyle modification, nevertheless, the use of intragastric balloon has provided succor to those who are not fit for surgery or those who do not want to undergo surgery.
Currently, Renew Bariatrics only provides the Orbera or Spatz in Mexico. Get a free consultation about weight-loss surgery in Mexico.
When inflated they occupy the stomach reducing its capacity and inducing early satiety (sensation of fullness after ingestion of small amount of meal). Thus, their mechanism of actions can be likened to that of restrictive bariatric surgeries.
Cost of Obalon Gastric Balloon
One of the commonly used intra-gastric balloon devices is the Obalon balloon. It was approved by the FDA on September 8, 2016. It is the first and only swallowable balloon device approved by the FDA. The indication and contraindications for the use of Obalon are the same as for other intragastric balloons.
This device has the added advantage of not requiring an endoscopy for placement like most other intragastric devices. It is swallowed like a capsule. The capsule is attached to a very thin catheter for inflation. Once in the stomach (as confirmed by fluoroscopy), the capsule dissolves, and the balloon is released. The balloon is then inflated with 250mls of air (as against normal saline for most other intragastric devices) and the catheter removed. Up to three different Obalons can be swallowed in a single session or placed one after the other within the period of 6months.
The duration of stay of the Obalon is 6months after which the balloon(s) is/are removed by endoscopy. Side effects and complication profile are similar to those of other gastric balloons. See "Gastric Balloon Complications" and "Gastric Balloon Side Effects" for more details.
How Effective Is Obalon Balloon?
In a pivotal study conducted in the US, where 185 patients underwent a combination of lifestyle modifications in addition to the Obalon, three balloons were inserted at contact, 3 weeks, and 9 or 12 weeks respectively. The average percentage total body weight loss (TBWL) at six months was 6.9%. The balloon seems to be well tolerated, with a lower incidence of accommodative symptoms compared to those observed with other fluid-filled balloons (Bazerbachi, Vargas Valls, & Abu Dayyeh, 2017).
In a study conducted among obese pediatric patients, the average percentage excess weight loss EWL after 18 weeks post ingestion of the balloon was 20.1% (De Peppo et al., 2017).
Bazerbachi, F., Vargas Valls, E. J., & Abu Dayyeh, B. K. (2017). Recent Clinical Results of Endoscopic Bariatric Therapies as an Obesity Intervention. Clinical Endoscopy, 50(1), 42-50. doi:10.5946/ce.2017.013
De Peppo, F., Caccamo, R., Adorisio, O., Ceriati, E., Marchetti, P., Contursi, A., … Nobili, V. (2017). The Obalon swallowable intragastric balloon in pediatric and adolescent morbid obesity. Endoscopy International Open, 05(01), E59-E63. doi:10.1055/s-0042-120413