Gastric Banding Surgery in Mexico
Is Lap-Band Surgery Still Worth It?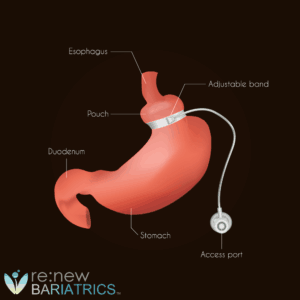 For morbidly obese patients, the dietary modification and lifestyle changes are usually insufficient to induce a significant weight loss that will improve comorbid conditions and have an acceptable impact on the quality of life.
One of the surgical methods of management of obesity is gastric banding. It is a form of restrictive bariatric surgery aimed at reducing the capacity of the stomach and thus, early satiety and an overall reduction in caloric intake.
How does it work?
The procedure involves the placement of an adjustable silicone band around the upper part of the stomach. The band generates a small pouch with limited volume which will provide an early and prolonged feeling of satiety; additionally, the band slows the passage of food from the pouch to the lower part of the stomach, thus leading to decreased food intake and subsequent weight loss (Torres-Villalobos, 2015).
The silicone band has a plastic tube that extends just below the skin through which sterile water can be introduced. Injection of water into the band makes it tighter. Thus, the band can be adjusted (tightened or loosened) to improve weight loss and reduce side effects.
The band is not/minimally inflated immediately after surgery. By the end of the 6th-week post-surgery, the adjustment is commenced by injection of sterile fluid into the band and at 2-4weeks interval until the maximum restriction is reached.
This procedure is most commonly done using the laparoscopic minimally invasive approach (Torres-Villalobos, 2015).
The US Food and Drug Administration (FDA) approve only two forms of gastric banding procedures. Lap-Band and Realize Adjustable Gastric Band (Torres-Villalobos, 2015).
Interested in undergoing Gastric Banding in Mexico? Today Most Bariatric Surgeons Recommend the Gastric Sleeve Surgery, as an Alternative to the Gastric Banding Surgery. Learn more about affordable, safe Gastric Sleeve in Mexico.
When to do gastric band (Indications)
The indication for gastric banding is not different from that of other bariatric procedures. Any patient with a body-mass index (BMI) >40 kg/m or with BMI >35 kg/m and 1 or more significant comorbid conditions or weight-induced physical problems interfering with the performance of daily life activities is a candidate for gastric banding (Pentin & Nashelsky, 2005).
When not to do gastric banding (contraindications)
Gastric banding should be avoided in the presence of any of the following conditions:
Inflammatory bowel diseases e.g. Crohn disease,
Chronic liver disease
Previous gastric perforation
Congenital malformations of the digestive tract
Severe cardiac and respiratory disease
Autoimmune connective tissue diseases such as SLE
Prolong use of steroids/immunosuppressant
Chronic pancreatitis
Advantages of gastric banding
Laparoscopic-adjustable gastric banding (LAGB) is a reasonable interim approach for the treatment of morbid obesity in adolescents because it promotes weight loss in the short term and is a reversible procedure (Harrison, 2017)
Related: Cost of Gastric Banding Surgery
Outcome of gastric banding
A report by Hutter et al. found that laparoscopic adjustable gastric banding has lower risk-adjusted morbidity, readmission, and reoperation/intervention rates than laparoscopic sleeve gastrectomy, laparoscopic Roux-en-Y gastric bypass, and open Roux-en-Y gastric bypass (Torres-Villalobos, 2015).
The average percentage excess weight loss (EWL) was found to be 49% in a study involving 2815 patients who had a laparoscopic adjustable gastric band (Cobourn, Chapman, Ali, & Amrhein, 2013). This value was sustained for up to 5 years after the surgery.
Related: Gastric Banding Revisional Surgery
Gastric Banding is no longer being promoted by Leading Mexico Bariatric Surgeons, as a result, you should contact our staff to learn more about how we can help you achieve weight-loss success.