Of Patients Would Recommend Us to a Friend*
of Renew Bariatrics Overall Rating*
of Our Bariatric Surgeons Rating*
Of Our Bariatric Hospital Facilities*
How We Compare Against the Competition
Since our founding Renew Bariatrics has been one of the leaders in affordable self-pay bariatric surgery for those looking for weight loss surgery. 
Renew Bariatrics offers various bariatric surgery solutions, including gastric sleeves, gastric bypass, gastric balloon, and duodenal switch procedures. The center's surgeons are caring and highly skilled in bariatric and weight loss surgery, helping patients achieve life-changing results.
What Makes Renew Bariatrics Great:
*Renew Bariatrics in Tijuana recently surveyed 165 of its past patients. Based on survey results, 100% of respondents said they would recommend the center to friends. In addition, past patients were asked to rate their respective bariatric surgeon, bariatric hospital and rate Renew Bariatrics overall. These results are from January 2021 feedback poll. 
What Makes Us a Preferred Choice for Bariatrics in Mexico: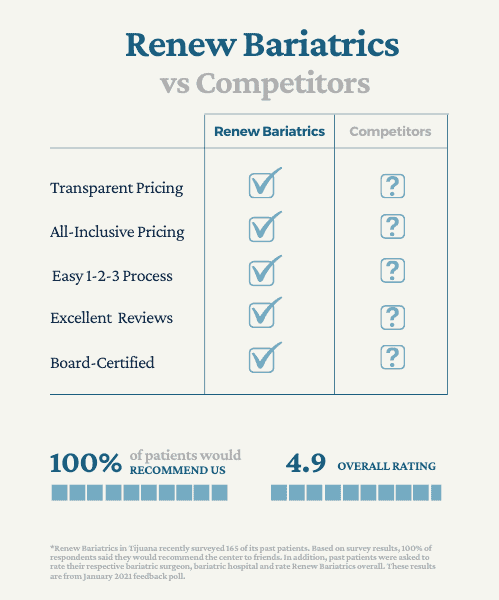 "I DON'T REGRET MY DECISION AND BELIEVE HAVING THE SLEEVE SURGERY WAS THE BEST DECISION I'VE MADE IN MY LIFE."
"This has been the greatest decisions I've ever made and my Doctor and staff have been UNBELIEVABLE!"