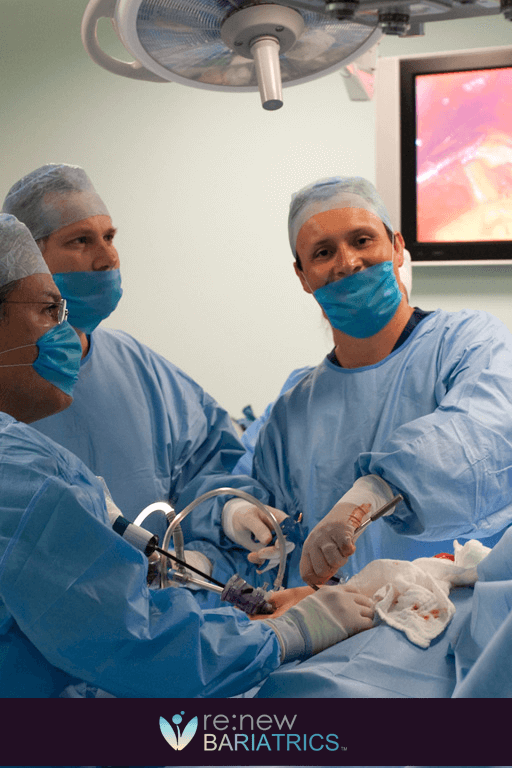 Dr. Héctor Pérez has been practicing bariatric surgery in Mexico for fifteen years. His strong reputation attracts patients from all over the United States and throughout the world. Dr. Hector Perez is our senior bariatric surgeon with the most experience.
Languages Spoken: Spanish 100%, English 100%
Professional License Number: 4768231
Board-Certified: Bariatric Surgery, General Surgery
Dr. Héctor Pérez has trained at the following world-renowned universities:
University of Miami

La Salle University

Mexican National University
Dr. Perez is certified by the Mexican College of Obesity Surgery and Metabolic Diseases and has been certified by the by the Mexican Council of General Surgery since 2006 – being recertified in 2012.
Currently, Dr. Perez performs the following procedures:
Dr. Héctor Joaquín Pérez Corzo provides the highest level of care to his patients in safe, comforting, facilities as well as pioneering innovations in the field of bariatric surgery. He prides himself on helping patients fight obesity with a long-standing reputation of successful no complication surgical weight loss in safe and comfortable settings.
DR. HECTOR PEREZ REVIEWS
I would recommend Dr. Perez

I have no care about the care I received. Dr. Perez, I like him, he cares about the patients. He speaks great English, and explained everything he was doing and what to expect, although he kind of downplayed the amount of pain I would be in after the surgery. Overall, I would recommend Dr. Perez. I am very happy with my experience… Good luck with your journeys.
Evangelynn T (Georgia)
July 26, 2013
I felt very comfortable and capability
I had a great experience in Cancun having vsg surgery with Dr. Hector Perez and felt I should relay my experience to those considering going to Cancun for surgery. I went alone and was a little nervous at first. Dr. Perez put me at ease immediately due to his confidence and assurance. He was very friendly and I felt very comfortable with his capability in performing my surgery… The nurses were great! There were no real communication problems due to the cards that were utilized in the hospital for interpretation. I feel like I was treated very well during my entire experience and I am still quite amazed how easy my recovery has been … thanks to Dr. Perez and the wonderful staff at Clinica Victoria. I am glad I chose Cancun because it was very relaxing and inviting and I had no worries about my safety. Dr. Perez is a brilliant surgeon and this was the right fit for me. My surgery was August 24th and I'm nearly two weeks out and down 14 pounds.
Nothing to worry about

I just got back from being sleeved by Dr. Perez on January 25. My husband went with me. Let me assure you that you have nothing to worry about. Everyone is very kind… He was very informative and gave Lee (hubby) suggestions. Also, don't be too shy to ask for a pillow for your companion. All of the surgical staff speaks English. The operating room (to which you walk yourself) is very modern. The entire hospital is clean but very small. I am getting ready to post my experience in full so you can read that too.
Thank Hector Perez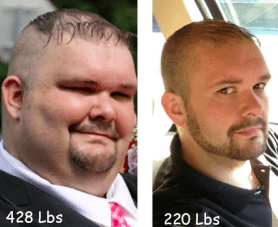 Thanks to Hector J Perez Corzo … I am more active now then I have ever been in my life. I have lost a total of 208lbs and my weight ranges from 220-240 and I am now 2 years out from surgery. I no longer take medications for diabetes, high cholesterol or high blood pressure my A1C is 4.75 and I am no longer considered a diabetic. I am thankful that I got a second chance at life and a tool to help me stay on the right path to health
Corey (South Carolina)
July 23, 2015
Zero problems
I was sleeved with Dr.Perez on 12/15 and could not have been happier with the experience. I am down 35 lbs and have had zero problems. I do not understand why anyone would want to go to a border town when they can lay on a beach in Cancun. 🙂
Dr. Hector Perez is the best

Dr. Hector Perez is the best in my book. The staff was caring and attentive. I have lost 116 lbs in 1 year. My health issues are gone.
Catherine (USA)
April 15, 2016

WHAT IS THE BENEFIT OF CHOOSING A BOARD CERTIFIED BARIATRIC SURGEON?
Board certification by the CMCOEM is strenuous. Certification requires applicants to have a minimum of 2 years of bariatric surgical training and experience with 25 procedures performed per year.
CMCOEM requires members to restrict their surgeries to accredited facilities that have passed rigorous scrutiny by independent authorities. Continuing education requirements are strict to ensure surgeons are fully current on issues relating to patient safety as well as the latest surgical innovations.
Those surgeons passing the requirements are uniquely qualified to skillfully perform all aspects of bariatric surgery. Dr. Perez has been certified by CMCOEM since 2004 and attends specialty conferences throughout the year.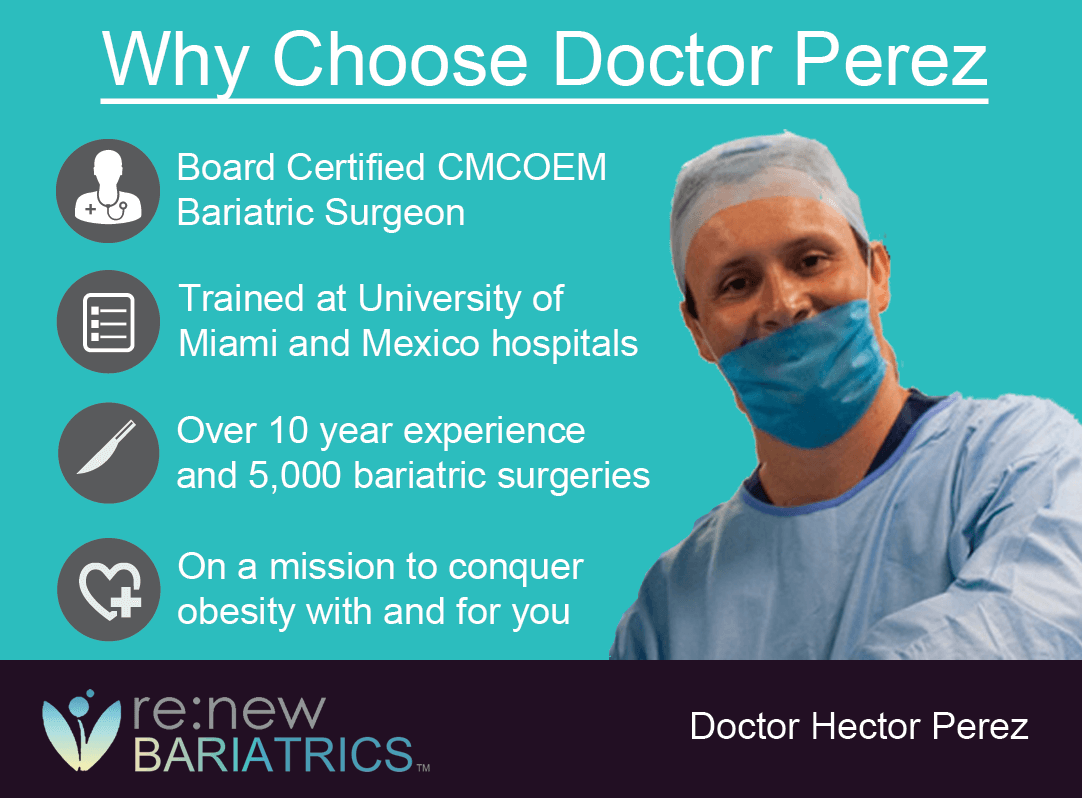 Dr. Héctor Joaquín Pérez Corzo CV and Resume
Dr. Hector Perez has been at the forefront of bariatric surgery since the early 2000s, working as the chief surgeon with Hospital Victoria in Cancun. Dr. Hector Perez has studied a the University of Miami School of Medicine taking courses in Advanced Cardiac Life Support, Advanced Trauma Life Support and more. Dr. Perez is a frequent lecturer on the topic of Bariatrics and an attendee of the International Federation for the Surgery of Obesity and Metabolic Disorders (IFSO).
Board-Certifications and Associations
Board certified by Mexican Council of General Surgery, July 15th, 2006, Recertified. 2012
Board certified by Mexican College of Obesity Surgery and Metabolic Diseases. 2015
Member of the International Federation for the Surgery of Obesity and Metabolic Disorders. 2008
Member of the Mexican Association of Endoscopic Surgery, A.C. 2006
Member of the Mexican Association of General Surgery. 2009
Member of the Mexican College of Obesity Surgery and Metabolic Diseases. 2013
Bariatric and Surgical Experience
Chief Surgeon "Bariatric Medical Center Cancun". Hospital Victoria. May 2008 – 2017
General Surgeon Attending at HGZ no. 18 Playa del Carmen, Quintana Roo, IMSS. Nov 2010 - 2017
Regional delegate of Quintana Roo. Mexican Association of Endoscopic Surgery, A.C. May 2009 - May 2010
Chief of Surgery "Specialty Clinic Churubusco" ISSSTE, June 2008 – Jan 2009.
General Surgeon Attending "National Medical Center 20 de Noviembre", ISSSTE, June 2007 – May 2008.
General Surgeon Attending "Regional Hospital Licenciado Adolfo López Mateos" ISSSTE, March 2006 – Sep 2007.
Certifications of Dr. Hector Perez
View Certifications