Stick with Your Bariatric Eating Plan While on Vacation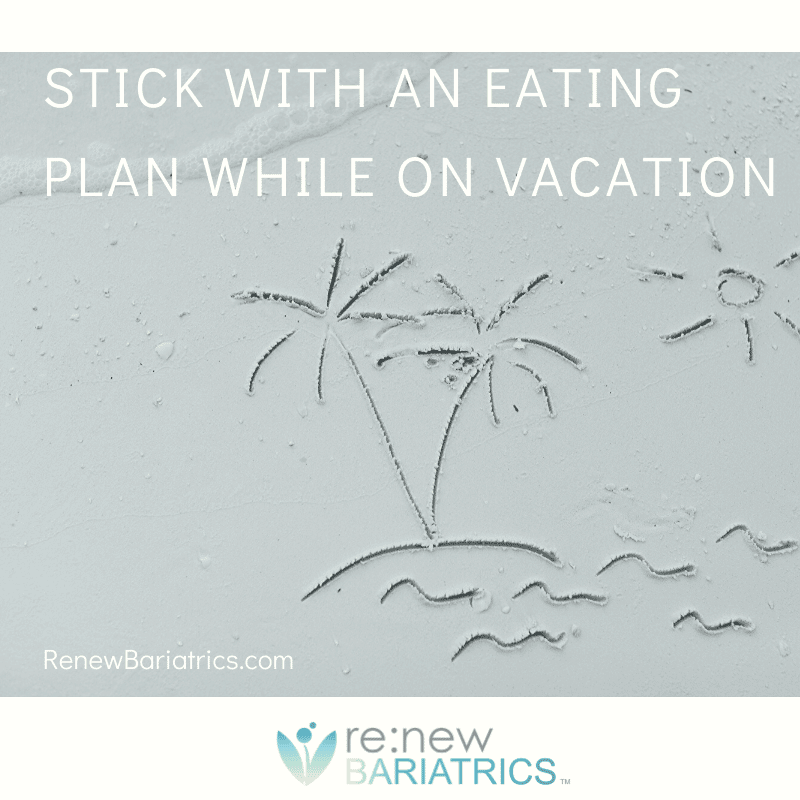 After bariatric surgery, when you're losing weight and feeling good, it's relatively easy to stay motivated and on track at home. But, going on vacation can derail your efforts if you're not careful.
Of course, it's important to have fun. But it's a good idea to be prepared on how you're going to stick with your bariatric eating plan while on vacation. This will ensure you have a great time while achieving your weight and health goals.
Here are some of the things you can do before you jet off.
Plan a meal schedule
Depending on the type of vacation you're going on – a romantic weekend getaway, a holiday with the family, or a work engagement – plan a meal schedule in advance to take the stress out of eating. This will allow you to enjoy your vacation without worrying about meals.
It's a good idea to book a self-catering accommodation with some cooking facilities (if not a full kitchen). This way you can eat healthy foods and control your portions.
Your meal plan should include a day-wise outline of the main meals of the day – breakfast, lunch, and dinner – and whether you'll cook and eat at home, prepare and carry with you, or eat in a restaurant. This will give you an overview of how many restaurant meals you're planning and whether you need to cut down.
You can be inventive in terms of the meals you plan. Breakfast doesn't have to be pancakes, bacon, and eggs. If you're on the go, hummus and raw cut veggies, whole wheat crackers, and a protein shake or hard-boiled egg are healthy options. Aim for high protein and fiber content.
You'll also have to keep in mind which post-op phase you're in and plan your meals according to the foods you've been recommended.
Choose restaurants carefully
When you're eating in restaurants, keep in mind that the advertising can be gimmicky and food marketed as healthy may not necessary be so. In general, restaurant meals tend to be high in calories, saturated fats, and sodium (that's what makes them so tasty). Also, restaurants often serve large portions.
When you're eating out, choose restaurants carefully after studying their menu (do this online in advance, if possible). You're on vacation and you can indulge, of course, but let your indulgence be eating a dish you never cook at home, but which is still healthy.
Always ask for sauces and dressings on the side, so you can save on empty calories.
Choosing an entrée from the online menu in advance is a great way to stay on track without getting distracted by high-calorie dishes.
Stay Active
One way to stay healthy after bariatric surgery while on vacation is to plan an active holiday that involves hiking, biking, and other adventure sports.
If, however, you're headed for the beach, don't spend all your time laying around. Keep track of how much you're moving (aim for a minimum of 10,000 steps every day). Make sure you get at least a quick workout done in the hotel gym.
Love the outdoors? Go for a walk on the beach – it won't even feel like a workout. Weather not permitting outdoor activities? Hotel has no gym? Make sure you're equipped for a portable workout in your room (pack a couple of free weights and a resistance band). There are many fitness apps and YouTube videos to guide you. And lastly, don't forget to pack comfortable exercise clothes.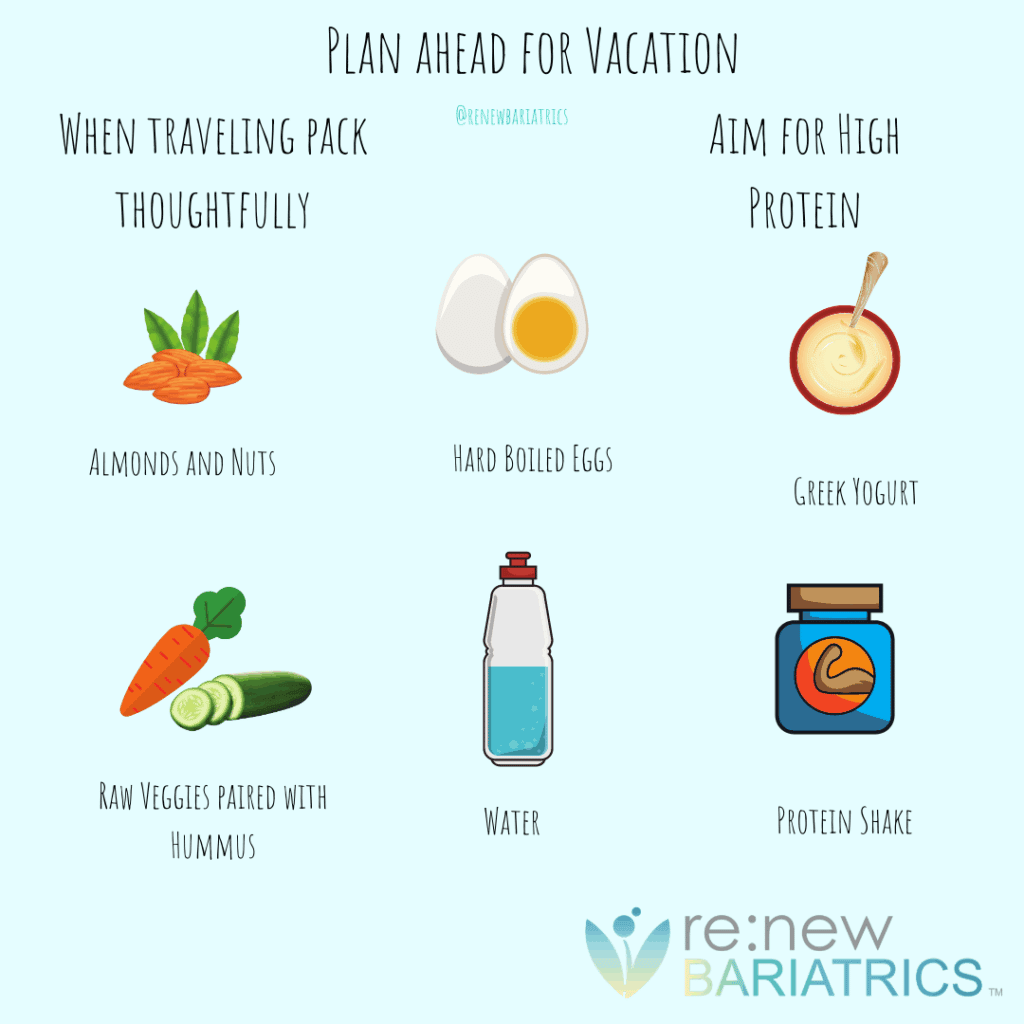 Tips to Avoid Diet Misadventures on Vacation After Bariatric Surgery
Here is a checklist of tips to keep healthy while enjoying a vacation:
Bring a large (30-ounce) water bottle everywhere to stay hydrated.
Carry healthy snacks for when the hunger pangs strike.
Take all your vitamins and supplements.
Bring your protein powder and shaker.
Book accommodation with cooking facilities.
Pick lean proteins and steamed options in restaurants.
Research restaurants and menus in advance.
Plan a meal schedule to ensure you don't eat out too often.
Ask the server about portion size and share entrées and desserts.
Ask for sauces and dressings on the side.
Remember, alcohol contains calories, so limit your consumption.
Stick with zero calorie beverages (water is best).
Stay active on vacation.
A vacation is a great time to recharge, rejuvenate, and rekindle your motivations. Don't fall back on old unhealthy habits. Instead, embrace your vacation as a time to stick with your bariatric eating plan.