Cut Gut; Why Bariatric Surgery Could Be Right For You Yes, You!, 
Book by: Jamie J. Palfrey, M.Ed.
Reviewed by: Elizabeth Lane, Nutritionist Renew Bariatrics
Cut Gut is presenting the author's personal experience regarding weight, failed diet attempts, and what led her to bariatric surgery. The author; Jamie Palfrey details her struggles of being overweight and why this occurs for many people, challenges of weight loss through the years and decades, and ultimately what leads to bariatric surgery.
Palfrey starts the book by introducing us to her and her individual journey; walking us through the first occurrences of her weight gain in young adulthood. Throughout the book Palfrey demonstrates her expansive knowledge and full experience of the bariatric process in its entirety by relating her intimate story as it pertains to the rest of us.  
Setting us up with relatable and humorous analogies describing metabolic set points and outlining hunger hormones making it coherent for those of us outside the weight loss community.  She goes further to explain the different types of bariatric surgeries' their complexities and identifies the pro's and con's of each.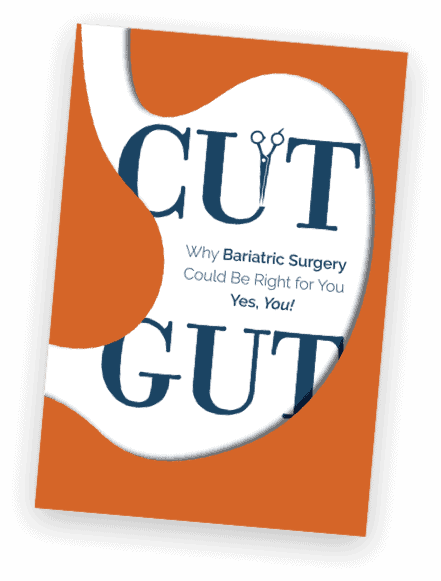 Palfrey has a distinct perspective profiling weight gain and continued weight gain to that of a drug addict. Working as an administrator for a methadone clinic for many years has shaped Palfrey's outlook on food addiction. Narrating a different tune; she recognizes and elaborates  that all human beings are complex. Life experiences negative or positive, distressing or soothing, damaging or favorable, discouraging or hopeful; are what drives our future and the choices we make. To cope with life's uncertainties, stress or trauma one may turn to alcohol, another turn to exercise while another may turn to food. What Palfrey effectively does is shines a bright light on the complexity of human behaviors and defines empathy for all walks of life. 
Further along Palfrey expands her expertise by presenting from a first person perspective the stigma of being overweight and  obese. It is human nature to cultivate first impressions upon appearances alone. Sometimes without even noticing our thoughts we have wrongly identified people who are overweight as lazy, or as people who simply do not care. Palfrey goes on to describe in grueling detail all of her failed diet attempts and how crushing they can be both physically and emotionally. She ties all of these personal experiences together beautifully  leading the reader to understand more so than ever before, that simple diet and exercise may not work for everyone.  
Palfrey lends her research and offers us a synopsis of the most popular bariatric surgeries and procedures including; Gastric Sleeve, Gastric Bypass, Gastric Band, Duodenal Switch, vBloc and Gastric Balloon. Providing information on; what to look out for and what to ask when choosing a bariatric surgeon, how to prepare for surgery and what potential risks may arise.
As a professional in the weight loss industry I appreciate the inclusion detailing proper preparation needed for bariatric surgery. What procedures, lab work and clearances are needed prior to surgery. And furthermore how to prepare mentally and emotionally for all the tremendous life changes that are about to occur. 
The favored portion of the book is when Palfrey describes in detail her visit with a psychologist. It is typical that patients are seen by a psychologist at least once as a required clearance for  surgery itself. Having a nonchalant attitude towards the appointment from the start, Palfrey quickly changes her position after fifteen minutes into the session with the psychologist. She  soon realizes that she had so much more to consider going forward with bariatric surgery.
It is quickly pointed out to her; that frustrations surrounding food will grow. Not being able to consume the same amount as before, not having the ability to cope with food like you once did, and the challenges that surface with behavior modification. Feelings of self esteem will arise, no matter what number is staring back at you from the scale.
She strongly points out everything in detail that is about to change regarding the author's professional life, social life and her relationships with friends, family and co-workers. Preparing for uncomfortable moments and conversations, having unresolved resentment appear from friends or family and perhaps losing relationships that were once meaningful. 
Life post-surgery will be demanding, difficult and painful at times, and in order to pull through, it is necessary to live in these emotions; discomfort, struggle, sorrow and grief. This portion of the book is significant and insightful allowing future patients to anticipate the unknown. 
Palfrey ultimately chooses the famous Dr. Matthew Weiner, as her bariatric surgeon. 
Look him up on his website; A pound of Cure. He is a fantastic resource for bariatric patients; educating the population with his books, videos and presentations on surgery itself and how to create a healthy post surgery life. 
Palfrey's prime intent writing Cut Gut; is to educate readers regarding weight gain and attempts at weight loss and why bariatric surgery should be a viable healthy solution for weight loss and minimizing weight related medical conditions and diagnosis. 
The book is informative, educational and profound. Anyone who has had bariatric surgery, is thinking about having bariatric surgery, or has friends or family struggling with weight loss; should grab a copy of Cut Gut. It is an easy read that will provide readers instruction, empathy and motivation regarding all things bariatric surgery. 
While reading the book; it is as if Palfrey is sitting next to you, acknowledging you, hugging you and giving you the kick in pants that you desperately need. Appreciation for others who are struggling with weight grows significantly, while reading the book. There is a heightened awareness that this book delivers that cannot be learned through conversation nor social dynamics in our culture.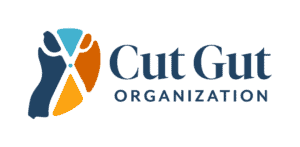 Palfrey is so passionate about her stance and her journey that she started her own organization;  www.cutgut.org. To help others financially secure the funds needed for bariatric surgery. 
In the final pages of the book, readers are delighted with further resources hand-picked by Palfrey herself. Resources regarding weight gain, weight loss, bariatric surgery, and overall health and wellness information; in the form of encouraging and informative books, podcasts, movies, television programs, blogs and TED talks. 
Purchase Cut Gut by Jamie J. Palfrey, M.Ed., and start planning your future.