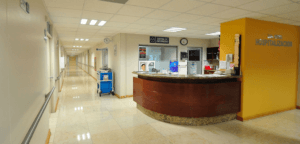 Hospital Guadalajara is a full-service hospital, who is one of three hospitals in Tijuana with CSG accreditation.  Located in downtown Tijuana, Mexico, Hospital Guadalajara was founded in 1959 by Dr. Jose Javier. The hospitals' third floor is primarily dedicated to bariatrics. In its entirety, Hospital Guadalajara provides a full-range of services including, cardiology, pediatrics, international medicine, aesthetic, and much more.
The hospital has multiple operating rooms, various waiting rooms, full cafeteria,

CSG Accreditation
Hosptial Guadalajara is one of just three facilities in Mexico to receive the accreditation by the General Health Council of Mexico, which is a medical tourism council to bring healthcare to international standards, to reduce the risk of infections, and to offer the highest quality and patient safety.
The CSG accreditation was created in 1999 to provide healthcare facilities in line with the (JCI) accreditation.
Hospital Guadalajara Reviews:
Happy I chose Tijuana for surgery
Hospital Guadalajara is where I did my gastric sleeve. Nurses and other doctors are also super nice. Happy I chose Tijuana for surgery
Hospital and staff are so outstanding
Hospital Guadalajara is the most respectful hospital I know! It was very important in my new life. Dr.cervantes is the most important! Both together make a great pair! The hospital and staff are so outstanding, very modern! So happy!
Very nice staff
Very nice staff and efficient. Very caring. Wonderful food right outside the hospital. If you need a hospital in Tijuana then I recommend Hospital Guadalajara.
This place is great, professional, clean
Forget the "Mexico stereotype", this place is great, professional, clean, welcoming, cheap, fast, and above all a trusting and honest hospital environment and staff.
Melissa
September 13, 2017
Hospital Guadalajara Photos: