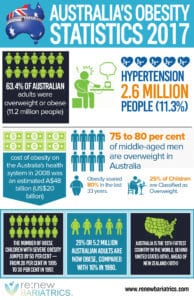 In medical terminology, overweight is a condition where a person's body mass index (BMI) falls between 25 and 30 while a person with a BMI of 30 or more is termed as obese. Morbid obesity is the condition where a person's weight interferes with the normal functioning of their body.
Obesity in Australia is one of the most significant public health challenges facing the population. More than half of the adult population has a body weight that poses serious health risks. More than 60% of Australian adults are obese, and almost 10% are severely obese. At least a quarter of Australian children and adolescents are obese or overweight.
The Australian Medical Association (AMA) has called on the Federal Government to implement a multi-faceted strategy to address this issue of obesity that poses significant health risks to families and individuals across the nation.
Around 70% of obese adults are subsequently afflicted with one health condition such as heart disease, stroke, musculoskeletal diseases, hypertension, type 2 diabetes or impaired social functioning that increases their healthcare cost by at least 30%.
In 2012, 22% of Aussies had a cardiovascular disease which is billed as the number 1 cause of death in Australia with 280 Australians developing diabetes every single day.
There are more men than women who are at a higher risk of developing obesity at 70.8% compared with 56.3% respectively. This is also being passed down to our children with one in every four children between the ages of 5-17 being overweight or obese.
A big factor in obesity is the inadequate intake of fruit and vegetables in our diets as per the Australian Dietary Guidelines. The appeal of convenient, fast foods has 93% of all Aussies consuming insufficient fruits and vegetables every day.
Childhood Obesity
Previous efforts to address childhood obesity through public health initiatives have been unsuccessful mainly due to the insufficient attention that childhood obesity management has received. This is primarily a result of the lack of understanding on what exactly entails childhood obesity management, persons involved, approaches to deal with it and the barriers to its effective management.
A project done to get more answers to these issues has revealed that stigma, health conditions arising due to modern lifestyles and environment, lack of empowerment and insufficient resources are the leading causes for lack of progress in childhood obesity management.
Way Forward
The national strategy should encompass nutritional measures, physical activity, community-based programs, targeted interventions, research and monitoring and treatment and management.
Initiatives such as exercise, diet, walking paths, cycle paths, urban planning, work environments, transport, health literacy, sport and recreation facilities should be supported wholeheartedly.
Key AMA recommendations to the Federal government for the obesity national strategy include:
A sugar tax on products known to contribute significantly to obesity especially in children.
Encouraging Australian mothers to breastfeed their babies for the first six months of life.
Increasing access to nutritional literacy for new mothers and mothers-to-be.
Promoting healthy and nutritional eating in schools to teach and encourage a healthy lifestyle.
Easy to understand labeling for packaged foods on nutrition information.
More significant support for doctors and health professionals to help patients lose weight.
Subsidies for healthy foods such as vegetables and fruits especially in remote locations.
Town planning that promotes healthy communities through safe access to walking and cycle paths, recreation spaces and parks.
A ban on targeted marketing of junk food to children.
Reducing the sale, production, and consumption of food products that are low in nutrients.
Local information programs and services and community-based health education.