One of the contributing factors to the development of obesity is a sedentary lifestyle or physical inactivity. Despite the effectiveness of weight loss surgery and other interventions and devices that are available for the management of obesity, the need to comply with the dietary adjustment and lifestyle modification has been established as the primary requirements for optimal weight loss following bariatric surgery.
With lack of adequate exercise, the expected weight loss will not be achieved, and the overall well-being of the patient will also be suboptimal. Under an ideal setting, the training is usually commenced before the surgery. This will ensure that you are already adapted to the type of exercise and will find it easy to sustain following bariatric surgery.
The benefits of exercise include but not limited to increasing energy expenditure and lean body mass while contributing to fat loss, reducing obesity-related complications, and improving self-esteem and depression (Livhits et al., 2010).
Different ranges of exercise are available for obese patients. Although no standard guideline has been established in regards to the degree of activity that is appropriate for people who have just undergone bariatric surgery. However, some experts suggest that daily walking is adequate and patients can make use of pedometers to track their activities.
The recommendation of The American Society for Metabolic and Bariatric Surgery (ASMBS) is that mild exercise (including aerobic conditioning and light resistance training) 20 min/day 3–4 days/week before bariatric surgery will improve cardiorespiratory fitness, reduce the chance of surgical complications, enhance healing and postoperative recovery (King & Bond, 2013). The recommendation of The American Heart Association (AHA) is also similar to that of ASMBS.
Benefits of Exercise for Bariatric Patients
After about 4 weeks postoperatively Egberts et al. carried out a study and found that aerobic and strength building exercises for 45 min/3 times a week resulted in a better excess weight loss (37%) and change in percentage body fat (3.6%) against the other group of people in the usual care group (27% and 1.6%, respectively) (King & Bond, 2013).
Apart from walking, other exercises that you can engage in after bariatric surgery include cycling, Yoga, dancing, swimming jogging, light weights and aerobics classes. Begin your exercise gradually and gradually increase it as much as you can cope with.
Exercise after your bariatric surgery is as important as the bariatric surgery itself. It might be difficult to comply with your physician's plan for you on the degree of exercise that is appropriate for you. You must, however, summon the courage to meet up with your prescribed daily activities if you desire to have a maximal benefit from the bariatric procedure. The following tips may help you achieve your goal as regard exercise;
Schedule a convenient time for the exercise
Choose a conducive and spacious environment
Work with a partner with the same purpose as yours. This person may be a source of motivation for you.
Disregard the pain of muscle soreness that may occur when you start your exercise. Remember "good things don't come quickly." If the pain becomes unbearable, relax for some minutes and continue your training.
Join groups that are involved in exercise for physical fitness.
Exercise after Bariatric Surgery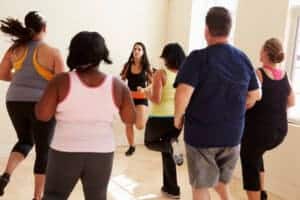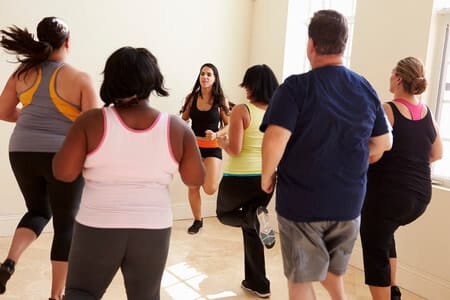 Jogging. It will speed-up weight loss.
Diseases associated with obesity such as hypertension, type 2 diabetes mellitus, sleep apnea, dyslipidemia (increase in the blood level of bad lipids), and osteoarthritis negatively affect the quality of life of obese individuals and also increase their health care spending.
Despite the popularity of bariatric (weight loss) surgeries as the panacea to the menace of obesity, a significant proportion of obese individuals still fail to lose the adequate amount of weight even after undergoing the adjudged most effective weight loss surgery. This has been found to be connected to the lifestyle of these obese individuals after weight loss surgery.
Part of the non-surgical ways of achieving weight loss in obese people is to adjust their diet and increase their physical activity (exercise). Adjustment of the diet helps prevent the accumulation of more fat while training ensures that the accumulated fat is broken down to produce energy. While weight loss surgeries seem to augment the dietary aspect by either reducing the quantity of food intake or reducing absorption, it does not affect the aspect of physical activity.
All the above point to the fact that, increase in physical activities (exercises) is an irreplaceable component of achieving weight loss. It must be initiated before and maintained after the weight loss surgery if a satisfactory weight reduction is to be attained. An adequate exercise after weight loss surgery will ensure more weight loss, improvement in comorbid conditions, decrease in the cardiovascular risk factors, reduction in healthcare spending, improvement in the quality of life and overall survival.
No universally acceptable guideline on the type and degree of exercise that is appropriate for patients after weight loss surgery. Nevertheless, experts have suggested that walking alone may be adequate. This can be quantified with the use of a pedometer (a portable electronic device that counts the number of steps taking while walking), this must, however, be calibrated before use.
Aerobic exercises for at least 20 minutes in a day in 3-4 days a week has been found to improve cardiorespiratory fitness. This is the recommendation of the American Society for Metabolic and Bariatric Surgery (ASMBS) and the American Heart Association (AHA).
In the work of Egberts et al., a higher weight loss was reported 4weeks after bariatric surgery in patients that engaged in aerobic exercises for 45minutes/day for 3times/week.
Other useful exercises aside walking include: yoga, swimming, bicycling, etc. the duration and extent should be determined by your physician based on your state of recovery.
The post-bariatric surgery period is characterized by emotional feelings that may negatively impact compliance with the dietary and exercise plan. However, you need to ensure this transient period by making sure that you adhere to the training plan as prescribed by your physician.
The tips below may be found helpful in achieving adequate exercise after bariatric surgery:
Start small and gradually increase the strength and duration of the exercise
Have a regular fixed time for the exercise
Exercise in a conducive environment
Join bariatric surgery forum where you can meet people with the same goal as such people may serve as sources of motivation for you.
Ensure the initial pain and muscle cramps that may occur during exercise. They are transient and will soon subside.
Have daily, weekly, and monthly targets to monitor how well you are doing with your exercise.
Don't give up until you achieve your goal.
In conclusion, exercise is no doubt, an essential ingredient to achieving optimal weight loss after bariatric surgery. It also improves the cardiovascular health and reduces the risk of death. The secret is to start small and progress gradually till your goal is achieved.
Initial Exercising
Bariatric (weight loss) surgeries are the surgical treatments for obese individuals who desire to lose a significant amount of excess weight and achieve a resolution/improvement in diseases that are associated with obesity. They are efficient and relatively safe.
They alter the diet by reducing the amount of intake or reducing absorption or both. However, they need to be complemented with exercise to get and sustain the optimal weight loss.
When do you commence exercise after bariatric surgery?
What exercise is the best to start with?
What preparation do you need before starting your exercise after bariatric surgery?
"The journey of a thousand miles begins with one step."
Your doctor will tell you when to start your exercise. This is after a thorough assessment of your level of recovery from surgery and cardiovascular and respiratory stability. Apart from the time to start, you will also know which forms of exercises are best for you and how frequent to engage in them. Most surgeons will allow their patients to commence exercise after four weeks of bariatric surgery with little variations among patients.
Exercise after bariatric surgery starts with walking around the home. This should initially be as much as you can tolerate. Few minutes of brisk walk in a day is enough to kick start your post-bariatric surgery exercise. You can then increase the duration gradually to about 45 minutes per day. You need to know that the rigorous nature of the exercise has little to do with your aim of losing weight. In fact, rigorous exercise may make you lose your muscle bulk as well. Therefore, slow and steady wins the race.
Your following exercise should be determined by those things you enjoy most. When you engage in an exercise that gives you pleasure, sustainability becomes an easy thing. Bicycling, swimming, yoga, jogging, going to the gym, etc. are all helpful in achieving weight loss.
Doing it alone may soon become boring. Let your friend and relatives give you the support. Go to the gym with them, jog together and while doing these, gist about interesting topics. This keeps you motivated and prevents your exercise from becoming a boring activity.
Before you start your exercise after bariatric surgery, set your targets. No, what you want to achieve daily, weekly and monthly. Let these objectives be realistic and measurable. A loss of 20 kg weight in one week is not achievable. With measurable targets, you will be able to assess your progress when you finally start your exercise. Items such as pedometer and bathroom weighing scale will help you track your level of activity and monitor your weight changes.
It is not advisable to start your exercise without looking for people with the same problem and targets as yours. You need people going through the same experience with you to share ideas and success stories. You can get them from different bariatric surgery forums. These people will serve as competitors and motivators for you.
The injury may prevent you from sustaining your exercise after bariatric surgery. Therefore, one of the things you need to learn before you start post-bariatric surgery training is how to prevent injury. Before each exercise, try to warm up by doing some form of stretching, jumping, etc. for about ten mins. This will help release tight muscles and improve flexibility. It will also increase heart rate and blood flow to vital tissues/organs, such as muscles and adrenal glands, in preparation for the main exercise.
Getting started with exercise after bariatric surgery requires some knowledge and information that will guide you throughout your exercise, prevent you from sustaining an injury, keeps you motivated and make your exercise full of fun.
Injury Prevention after Bariatric Surgery
Obesity is associated with diseases that make life difficult and impact negatively on the quality of life. Exercise after bariatric surgery must therefore be done in such a way that will not cause injury that may further comprise the well-being of an obese person.
Having known the benefits associated with exercise after your bariatric surgery, you are likely going to be overzealous with your exercise. However, because your muscles, ligaments and joints are yet to adapt to this exercise routine, you are at risk of sustaining injury during your workout. Moderation is essential during the initial phase of your workout program. Injury will give you a set back and prevent you from achieving your target at the set time.
Exercise after bariatric surgery requires that your whole body is healthy and in proper shape. Any form of acute illness demands that you postpone your exercise till you have fully recovered. Nevertheless, exercise is possible and even beneficial in some minor illnesses like common cold. The rule is for you to always assess your body's readiness for the exercise. Consult your doctor on any unusual feeling or sign to determine the compatibility of such with your workout.
Even when there is no injury, the ideal practice is to rest after some days of your exercise routine to allow your body relax and recover from the stress of the previous exercise. Relaxation can also boost your mental health and improve your overall wellbeing.
If you have not been exercising before, you may experience muscle soreness a day or two after your workout. It is referred to as delayed onset muscle soreness (DOMS). It is mostly seen in those who have not been physically active for a long period of time and now starting a new exercise. The soreness is due to small tears in the muscle as they are engaged in unusual movements.
How much soreness you experience is determined by the duration and intensity of the exercise. Although the soreness is an unpleasant feeling, it is actually beneficial. Your muscles will gradually enlarge as they recover and this will increase your strength to sustain more intense exercise. Little or nothing can be done to prevent this.
Before each exercise routine, you should engage in warm-up and stretching activities. These will help prepare your heart and lungs for the exercise, increase the flow of blood and oxygen to your muscles, release tight muscles and reduce the risk of injury. Start with low-impact and less stressful exercise and gradually increase to more demanding ones. This will allow your muscles and joint adapt to your workout and reduce the risk of sprain, or dislocation.
Osteoarthritis is common among obese individuals. This is a degenerative disease that often affects weight bearing joints with symptoms getting worse after physical activities. Although, osteoarthritis resolves/improve in most patients as they lose weight after bariatric surgery, it may hinder your exercise at the beginning when you have not lost an appreciable weight. You should therefore pay attention to your joints and avoid exercise that puts additional stress on the affected joints. Any additional pain requires that you abandon that particular exercise and consult your doctor. You can recommence that particular exercise one you have lost significant weight. For example, instead of running, you can do walking, dancing, swimming as these exercise put less demand on your joints.
Another way of preventing injury during bariatric exercise is to alternate your exercise routine. Strength training exercise in a particular day may be followed by a day of rest. You can then do a cardiovascular exercise the following day before you go back to a strength training workout.
When you experience soreness, you can take over- the- counter analgesics occasionally to relieve the pain. This should however not be abused as they have their own side effects. You should also talk to your doctor before taking this medication in case you have any ailment that does not support its use. Ice compression, rest and elevation are other adjuncts to analgesics whenever you sustain any injury. They are the first line of treatment before you get to your doctor.
After a high-impact exercise, you can either rest the following day or engage in a low-impact workout such as swimming, brisk walking, etc. Regular yoga classes have been found to prevent injury during exercise. You can engage in this along with your exercise routine.
The major preventive measures are for you to adhere to your physician's recommendation on the appropriate exercise for you, start small and increase gradually, pay attention to your body and rest in between your workouts.
Exercise Gear for Bariatric Surgery
Have you been wandering why athletes put on clothes that are tight and possibly revealing the shape of their body during exercise? You think they like showing their six packs? These clothes are meant to serve some purposes and make the whole exercise a comfortable and comforting experience. For your bariatric exercise, appropriate gear is necessary to make some body movement during exercise a lot easier.
Considering the numerous benefits you stand to gain from exercise after your weight loss surgery, no amount of sacrifice may is too much in ensuring that you get everything necessary for the success of your work-out. You may, therefore, need to compromise on your outfit for exercise.
Your primary consideration in choosing what to wear for your bariatric exercise should be a comfort. When you are comfortable, exercise becomes easier to do and sustain. There are different types of athletic gear. They come in various sizes and also differ in term of the degree of comfort they provide. Your decision in choosing equipment may also be influence by the location of your exercise, indoor or outdoor. The following tips will help you decide on what to wear for your bariatric exercise.
Clothes
Compression gear made of elastic materials may help increase the degree of flexion and extension, stabilize the joints and therefore reduce the risk of injury. They may also reduce pain from muscle tightness and soreness. They also improve blood flow to the exercising muscles by enhancing venous return. Nevertheless, if compression gear causes you any discomfort, go for another type of equipment such as fitted garments.
Avoid wearing loose clothes such as baggy. They will be disturbing your movement during exercise. It is better to go for fitted clothes. Clothes that are slim-fitted will allow smooth mobility and will not get in your way during exercise.
When you exercise, you will sweat. This may make you feel uncomfortable and may prevent you from completing the day's workout schedule. Gear that is made from materials that allow proper aeration is the best. Those that have wick properties will also be good as they will quickly absorb the sweat and prevent you from feeling moist. During cold weather, you should wear long sleeve clothes that will keep you warm. This will increase the amount of calorie that will be burnt.
While going for exercise, you may need to take your car key, wallet, phone, and music player along. This may also be factored-in when choosing your gear. Buy those with pockets preferably with zips that will accommodate these items and prevent them from getting lost.
Shoes
Your shoes are as important as your clothes. Good shoes help to avoid ankle and foot injuries. Athletic shoes may also enhance proper weight distribution and prevent back ache that may follow some types of exercise. Appropriate shoes will also protect your knee joints and stabilize your gait. When choosing the type of shoes, the following factors should be put into consideration.
The size and shape of your feet
Athletic shoes are produced in different sizes and shapes. Choosing the appropriate size and shape that fits your feet without any area of pain or discomfort will go a long way in ensuring a convenient and pain-free exercise. Always try to wear shoes before purchasing them to ascertain whether it's your size and if it accurately fits the shape of your feet. It is not uncommon to have one foot bigger than the other, go for the larger size.
How flexible is the shoe?
Movement during exercise may require you to stand on the tip of your toes, dorsiflex or plantarflex your ankle joint. The shoe should, therefore, be flexible enough to allow all these movements without causing discomfort. The interior should be well padded for shock and moisture absorption. When you put on the shoe, the feeling should be that of stability and not imbalance.
Your weight
Because you are overweight, it might be difficult to find an appropriate shoe that will offer fitness and last long. Your foot may be excessively pronated making it difficult to get a shoe that will fit the shape of your foot. Since the shoe is not specially made for you, you only need to get something with an extremely foamy interior that will align with the shape of your foot.
An interior that will align with the shape of your foot.
Getting the perfect shoe requires that you visit stores that specialize in different types of athletic shoes. Choose a shoe that best fits your foot by ensuring that you put on the socks and other accessories that you will use with it during exercise wile testing the shoe. After putting it on, stand up and see how comfortable it is and the degree of stability it offers. Walk a short distance and see if you experience any discomfort or pain.
Exercise Motivation for Bariatric Surgery
The medical and psychological problems obesity has caused you will always be a driving force for you to do anything it takes to lose that excess weight. Bariatric surgeries have been proven to be useful in the treatment of obesity. To achieve the optimal result from bariatric surgery, exercise after the surgery must be sustained. This may be a bit difficult during the recovery phase of bariatric surgery that is marked with emotional, physical and psychological challenges.
Nevertheless, you must stay motivated throughout this period. If you have come this far, you cannot afford to relax. What are the things you need to do to stay motivated as regards your exercise after bariatric surgery? How can you keep the ball rolling?
Keep talking to your doctor
Your doctor is your best friend as regards your weight loss. The appropriate exercises are often suggested by your doctor based on his assessment of your physical status and cardiovascular health. Keeping in touch with your doctor after bariatric surgery will ensure that you can communicate your challenges and seek a prompt solution.
Go gradually; there is no need to rush
Commencement of exercise after healing from surgery may be demanding as the body is no longer used to this, due to an extended period of recovery. You should, therefore, start with regular walking around the home for say 10mins per day, then increase to 20mins per day, then 30 and 45min per day. This will allow your body to adapt to this gradual increase in physical activity without you getting exhausted after the exercise. You can then move to more demanding exercise such as jogging, swimming, etc.
Choose an exercise you enjoy
One of the ways of staying motivated on exercise after bariatric surgery is to choose an activity that you enjoy. However, this must be beneficial to your aim of losing weight. By selecting an activity you enjoy, doing it will be relaxing for you, and you will never get bored. If you like swimming, then do it and shed more weight, if you like yoga, do it and lose weight.
Use appropriate exercise kits and accessories
When you do an activity with the proper tools such as breathable clothing and a good pair of footwear, the experience will be comforting, and you will be able to sustain the exercise longer than with inappropriate kits. Having a well-calibrated pedometer to count your steps while walking will help you track how much you have done and whether you are making progress or not.
Do you know how to perform more than one sport? Then mix things together
You may lose interest in your post-bariatric surgery exercise if you keep doing the same thing over and over again. You can take a brisk walk today followed by swimming tomorrow and yoga the next day. The aim is to lose weight and improve your cardiovascular health by burning calorie. A single exercise for a long time will make you reach a plateau early, and you stop losing weight, but with different varieties, you use different body parts and keep mobilizing excess fat in every part of the body for energy.
Set your goals and work on them
Your final aim of doing exercise is to lose weight. Set your daily, weekly and monthly goals. Your daily goals should be on how many meters of walk/jogging you want to achieve per day, how many minutes of swimming per day, how many calories you intend to burn per day. Your weekly and monthly goals should be on weight loss. How many kilograms of your body weight you expect to lose per week or month. These goals must be achievable, feasible, sustainable, and measurable. All these would serve as guides for you to monitor your progress and make adjustment where necessary.
Join the right group
Many bariatric surgery groups/forums are available. When you join, you will have the opportunity to share your own story and meet other people with similar goal and target with yours. A healthy competition with and success stories from these people will keep you motivated to sustain the exercise and to be hopeful of achieving your goal as well.
For example, when you hear the story of that 120kg man who had his bariatric surgery 12months earlier and has been compliant with his exercise schedule and now weighing 70kg, you will be motivated to engage in more exercise. When you further hear that he no longer use antihypertensive and anti-diabetic drugs, then you become more determined to achieve the same level of success.
In conclusion, getting motivated to exercise after bariatric surgery requires that you stay connected with your doctor, listen to other peoples' success stories, set targets and continually evaluate yourself and finally do not give up.
"If you have gone this far, you cannot afford to fail, keep the ball rolling."
Aerobic Exercise: Walking, Running, and Swimming
Aerobic exercise, also known as cardiovascular exercise, is an essential component of bariatric exercise. This is any type of exercise that is hard enough to increase your heart rate. In aerobic exercise, the muscles use energy that is derived from breakdown of sugar or fat in the presence of oxygen.
The muscles during exercise require higher blood flow in order to get more oxygen and nutrients (sugar), the heart is therefore influenced by some of the flight and fight hormones to beat faster and pump more blood. The rate and pattern of your breathing is also altered (you begin to breathe faster and deeper) to increase the availability of oxygen to the muscles and to effectively evacuate the excess carbon dioxide that is produced by the exercising muscles. When you engage in aerobic activities frequently, your heart and lungs adapt to this state and function optimally.
In addition, aerobic exercise also improves mental health. Studies have shown that moderate to high intensity exercises reduce anxiety and depression. Improves self-esteem and prevents social withdrawal. This is partly due to increase blood flow to the brain.
Aerobic (cardiovascular) exercise varies in intensity. You will surely break a sweat but if the exercise becomes intense, you will become aware of your heart beat (palpitation) and conversation may become difficult due to your fast breathing. Joint problems such as osteoarthritis are often common among obese individuals and these may prevent them from doing certain cardiovascular exercises that place too much demand on the joints. They can however go for the low-impact aerobic exercises which offer the same benefits but minimal stress on the joints.
Apart from the benefit of helping to lose weight, cardiovascular exercise as recommended by the American Heart Association, has been found to be beneficial in reducing the risk of cardiovascular morbidity (stroke, myocardial infarction) and mortality. The recommendation is that of 150 minutes of aerobic exercise per week. This can be achieved by engaging in cardiovascular exercise for 30 minutes in a day for 5 days per week. The daily exercise can also be broken into smaller durations.
The following are examples of cardiovascular exercise.
Brisk walking
Walking is the safest low-impact aerobic exercise that is most convenient for most people. Brisk walking for 30 minutes per day in most days of the week will lower your blood pressure, improve your cardiovascular health, and make your muscles stronger. You can however walk more as you gradually build your strength.
Dancing
As fun as dancing can be, it can help you shed more weight and improve your mental and physical wellbeing. This can be done indoor or outdoor. It will improve the flexibility of your muscles and joints and also help you burn some calories
Running
Running is another aerobic exercise that is beneficial after bariatric surgery. You get all the benefits of walking from running. In addition you will lose more weight when you run as running requires more energy than walking and therefore more calories will be burnt. In fact, you will burn twice the calorie when you run than when you walk for the same duration. However, running is a form of high-impact aerobic exercise. Do not start with running first. Start your workout with walking and later proceed to jogging before you start running. This will reduce the risk of injury.
Bicycling
Bicycling is a cardiovascular exercise that also helps build the strength of your gluteal and leg muscles without placing additional stress on your joints. It is good to choose a traffic free location to engage in bicycling. Stationary bicycles at the gym can also serve this purpose.
Swimming
If you know how to swim, then you have an advantage over those who don't. Even after walking, jogging or running, you can still engage in swimming to get your body cooled. It does not burn much calorie and therefore not much effective for optimizing weight loss. Nevertheless, it strengthens the muscles of your back, shoulder and arm. Also if you are suffering from osteoarthritis, swimming may be a better exercise as it does not put stress on your weight bearing joints.
Other aerobic exercises include: aquarobics, rowing, Use of elliptical machines, jumping rope, etc. Always consult your doctor before you commence any exercise to be sure you are physically fit. Also visit the hospital if you sustain any injury during your workout.
Strength Training
Bariatric exercise is one of the ways of optimizing weight loss and living a healthy life after bariatric surgery. Strength training exercise will increase the tone of your muscle, gives you more balance and stable posture and prevent injuries such as sprain or fractures. It also increases the muscle bulk. The bulkier your muscle, the more calorie you will burn at rest and when you exercise.
Following bariatric surgery, there is loss of body fat with associated redundant skin. The redundant skin fold can be more prominent around the back aspect of the arm. Most patients will go for cosmetic surgery to address this. However, weight training can be beneficial in firming up these areas and reduce the unwanted skin folds especially when the sagging is not excessive. These are important tips towards your strength training exercise.
Adequate rest
Adequate rest is essential in between your strength training sessions. Muscles often get fatigued after strength training and therefore need to recover before another session. A period of 48 hours after one session should be free of activity to allow the muscles rest. This will help prevent muscle injuries. In addition, during each sessions of strength training, you should relax for few minutes before repeating the exercise.
Available options
Different options are available for strength training. Weight lifting is common but not the only way of performing a strength training exercise. You can visit your gym to access the other alternatives to weight lifting. Yoga, resistance bands and body weight exercise are other effective options.
Warm-ups and stretching
As for other types of exercise, warm-ups and stretching activities are essential preparation for a strength training exercise. They help prepare the heart to increase the volume and rate of pumping in order to provide adequate oxygen supply to the muscles. They also help release tight muscles and tendons, thus, preventing potential injuries.
Safety first
To use free weight or machine is a question most people will ask when it comes to strength training. However, as a beginner, machines are better as they provide safety features that prevent the weight from falling and injuring you. Free weights should only be used in the presence of a trainer.
Below are examples of different exercises to strengthen muscle groups in different parts of the body
For the upper part of the body, the dumbbell bench-press exercise can be used to strengthen the pectoral muscles on the chest. It is also a compound exercise as it simultaneously strengthens the triceps muscles on the back of the arm, the deltoid muscle on the shoulder and some upper back muscles. This exercise is performed by lying supine on a bench while a weight (barbell) is alternately pushed away and pulled towards the chest respectively. A bench press machine can also be used. Many variants of this exercise are also available to focus on a particular muscle.
The chest fly is another compound exercise that is used to strengthen the pectoral muscles. You lie supine on the bench and hold weights (e.g. dumbbell) on both hands. You then repeatedly spread out of your arms and bring them together above your chest.
Other exercises that can be used to strengthen the muscles of the chest and the shoulder are the pull down, the pull-up and the bent-over row, the shoulder press and shoulder fly.
The back of the arm has muscles known as triceps; responsible for extending the elbow as in pushing away an object. In contrast, the front of the arm contains the biceps and brachialis muscles which are responsible for flexing the elbow as in pulling an object towards oneself.
The dumbbell triceps extension, also known as the French curl, is a strengthening exercise for the triceps muscles. It is done in a standing or seating position with weights (dumbbell) held in both hands raised above the head to ensure that the arms are fully extended.
The biceps curl helps strengthen the biceps muscles on the front of the arm. Both arms can be used simultaneously or one at a time. The two hands hold separate weights and you curl them up towards the shoulder repeatedly. Other exercises for upper limbs are: cable-incline triceps extension, kneeling extensions, and one arm curl.
The leg extension is used to strengthen the quadriceps muscles. These are muscles on the front aspect of the thighs. They are responsible for knee extension. You can perform this in a sitting position with weight placed in front of your ankles while you support your body weight with your hands resting on a support on both sides. You then use your feet to elevate this weight. This is often done in the gym by the physical therapist.
Many strength training exercises are available for patients after bariatric surgery. However, they are best done with appropriate equipment and under the supervision of a physical therapist in other to prevent injury.
Strength Exercising Post-Op Bariatric Surgery
Warming up and stretching should be essential preparation before every exercise. When you do warm-up activities and stretching before exercise, your heart, muscles and joints are prepared for the main exercise. The heart begins to beat faster and this is accompanied by increase in the quantity of blood it pumps out, thus, increasing blood flow to the muscles.
Your breathing improves in readiness for the exercise and more oxygen is brought into the body while carbon dioxide is exhaled. As blood is the carrier of oxygen, muscles will also receive adequate oxygen for energy production.
Stretching involves the elongation of a group of muscles and tendons with similar function. This helps release them from tight positions and therefore reduce the risk of injury during exercise. Warm-up and stretching should be done for at least 10minutes before the main exercise. T
The following are examples of warm-up activities you can do before your bariatric exercise.
Walking on a treadmill or around your house or field
Low gear bicycling. A stationary bicycle can also serve this purpose
Warm-up with elliptical machine
Rope jumping
Stretching can be broadly classified into static and dynamic stretch. In static stretch, you stretch a particular muscle as much as you can and you hold it in that stretched position for about 20-30 seconds. However, during stretching, you should do it in such a way that does not cause pain. Any pain may mean that you are overstretching the muscle and muscle tear may occur. If you feel pain, reduce the extent and duration of stretching.
On the contrary, dynamic stretch which is also known as active stretch involves the performance of certain movements that are specific to the type of exercise you want to engage on. By this type of stretch, a muscle or group of muscles is stretched from a resting position slowly until it goes through its complete range of motion. This type of stretch activates the muscles you will use during exercise and increase the range of motion.
Because they are active and require energy, dynamic stretches are often performed after warm-up activities such as walking, cycling that have primed the heart to pump more blood than its baseline level. The stretches are repeated about 6 times but each set has about 5 stretches.
In general, stretching before exercise will offer the following benefits:
Release tight muscles
Improve blood and oxygen flow to muscles and prevent soreness during exercise
Reduce the risk of injuries such as sprains and dislocations
Increase the range of motion across joints
Increase your ability to sustain exercise
Below are few examples of static stretches
Hamstring stretch
The hamstrings are the muscles on the back aspect of your thigh. They are responsible for flexion at the knee and also extension at the hip. To stretch these muscles, sit on the floor and straightens your lower limbs (extend your knees) while your feet should be at right angle to your legs i.e. your toes should be pointing upwards and heels in contact with the floor. Your back should be straight with no side tilt. Then, lean forward and gently extend your upper limbs with the aim of touching your toes with your hands. Immediately you feel a sensation of stretch at the back of your thighs, you stop and hold it for 20-30 seconds. You then rest and repeat again.
Calf stretch
The calf muscles are at the back of your legs. They are responsible for plantarflexion at the ankle. To stretch these muscles, stand in front of a wall and position your palms against the wall. Ensure your upper limbs are fully extended. The leg in front should be bent at the knee while the one at the back should be extended and the plantar surfaces of your feet in contact with the floor. Then begin to lean forward until you start feeling the stretch at the back of the leg that is behind. Hold this position for 20-30 seconds and then rest before repeating it. Do the same for the other leg.
Side Bends
To do this, stand upright and space your feet about one and a half feet apart. Slightly flex your knees and put your hands on your hips. Then, gradually bend to your right side (no forward or backward tilt). When you begin to feel stretch on your left side, hold the position for 20-30 seconds and rest. Repeat this about 3 times and do the same for the other side.
Below are few examples of dynamic stretches
High knees/knee to chest
While walking or slowly running, raise your knee towards your chest (one knee at a time). This should be as high as possible. Do this alternately i.e. left knee followed by the right knee.
Lunges with a twist
Here you combine a forward lunge with a horizontal twist. The flexors of the hip are stretched by the forward lunge while the twist stretches the muscles of the back. These two movements activate the legs, the hip and core rotation.
Other dynamic stretching exercises include the high kicks, the hip stretch with a twist, T-push-ups, etc.