Medical tourism generated $60 to $70 billion revenues in 2015 and it has been predicted that it will generate twice these revenues by 2020. The market is growing rapidly as more people are becoming familiarized with medical tourism. The growing popularity has made it possible to study the industry more closely and give a precise viewpoint of upcoming trends.
The research titled "Medical Tourism Market by Treatment Type: Global Industry Perspective, Comprehensive Analysis, and Forecast, 2017 – 2024", published by Zion Market Research has found that the market is going to generate around USD 28 billion by the end of 2024, growing at a CAGR of nearly about 8.8% between 2018 to 2024.
Recent developments in data gathering and communication have revealed only growth in this sector to a full extent. American Journal of Medicine published a study report that says there are about 14-16 million medical tourists to all countries around the world and foreign patients usually spend up to $6000 on each trip totaling up to $72 billion revenue generated.
The amount is enormous and countries of Asia and the Middle East are moving faster to capitalize on this global business which is worth around 36.9 billion. These countries are offering similar services of similar quality following similar safety levels but at a surprisingly lower rate as they have a considerably lower rate of staff pay and medical coverage costs. Therefore the end price gets reduced greatly to the patients that draw them from their home country for treatment. The revenue is so lucrative that American hospitals like Harvard, John Hopkins, and many more are founding medical clinics outside the USA. However, the exact statistics are very difficult to confirm, and these estimations only indicate the strength of the potentially profitable business sector of the future.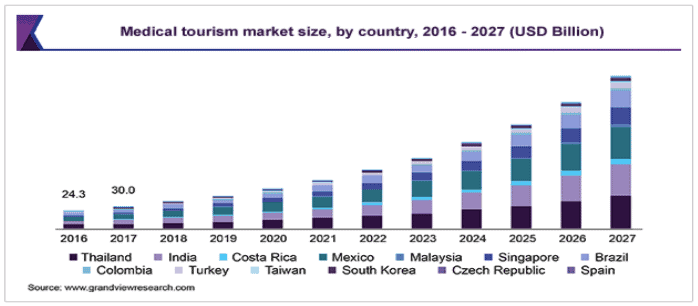 Medical Tourism Facts
Most would presume that medical travelers seek fast and cheap medical attention, although some facts of February 2018 that were reported by PWC regarding medical tourism indicated otherwise. The average expenditure per visit currently rests at $3000 – $10000 per tourist. The majority of tourists actually hail from Indonesia with around 600000 visitors for the year leaving the USA in second place with 500000 people going abroad for medical treatment. The PWC report predicted that the medical tourism market would value 125 billion by 2021 while the wellness market could reach a surprising 808 billion. 
The lack of useful health insurance is the most common factor for medical tourism, but the report says that the need for accessibility, experience focused services and high-quality care is more desirable for the patients traveling abroad for treatment.
In 2013, about 2.5 million foreign patients traveled to hospitals in Thailand. Bangkok's prestigious Bumrungrad International Hospital received over 520000 international patients that year. 
With 850000 medical tourists in 2012 Singapore is also growing as a medical tourism center in South East Asia. However, in January 2019 a report released by RHB research said neighboring countries like Malaysia and Thailand are getting a share of Singapore's market as they are offering lower healthcare costs. 
Countries like Costa Rica and Panama of Latin America are rapidly becoming tourist spots for medical travelers with nearly 40,000 foreign patients in Costa Rica in 2011.
Mexico, due to its close proximity to the U.S., has become a top choice for medical tourism destinations with 40000 to 80000 American seniors who preferred spending their retirement there with a considerable number of them receiving nursing home and healthcare services. However, Politico says, the recent events with Donald Trump and the wall may damage the flow of medical tourism across the border.  
Malaysia has become a famous medical tourism destination with 770134 travelers in 2013, doubling the number in the last 5 years. In 2016, Malaysia received numerous global recognition from the International Medical Travel Journal. Among the awards won by The Malaysia Healthcare Travel Council was 'International Cosmetic Surgery Clinic of the Year, 'International Fertility of the Year', 'International Dental Clinic of the Year' 'Best Marketing Initiative of the Year' and 'Health & Medical Tourism: Destination of the Year'. 
India has also become a medical tourism hot spot with 166000 international patients in 2012, for the selection of highly skilled doctors and improved medical infrastructure. The number kept rising in 2016 with over 170000 medical visas awarded to the country. However, this only represents a fraction of the total medical tourists entering the country.
South Korea is now counted among the top ten countries in the world in terms of tourist volume. According to the last available count, 390000 people traveled to Korea in 2016 compared to the overall patient volume of 14 million.
The demand for medical tourism has skyrocketed in Spain, especially in the town of Marbella. Over 330 million euros are being generated in that province in a year. The Quiron business group is the biggest medical supplier in Spain and claims to treat up to 20000 foreign patients a year, with most of them coming from the Netherlands, Finland, and the UK.  
The demand for IVF and related services grows in the MENA region as fertility decreases. North Africa and the Middle have created a market of $1 billion serviced by Turkey and UAE and Saudi. 
Most Frequently Treated Conditions
While the cost of treatment and services remains the main driver of medical tourism, a complete lack of health insurance is becoming the main reason for people to seek medical attention elsewhere in America. Procedures for cosmetic surgery, dentistry, weight loss, and even fertility are commonly not covered by insurance companies.
The top 10 medical tourism specialties

Dentistry (Dental Implants, Veneers, Crowns)

Plastic Surgery (Liposuction, Breast Implants, Rhinoplasty)

Ophthalmology (LASIK, LASEK, Cataract Surgery)

Hair Restoration (Hair Transplant)

Bariatric Surgery (Gastric Sleeve, Gastric Bypass)

Reproductive Medicine (In Vitro Fertilization [IVF])

Orthopedics (Knee Replacement, Hip Replacement, Spine Surgery)

Dermatology (Mole Removal, Acne Treatment)

Cardiology (CABG Surgery, Heart Valve Replacement)

Oncology (Breast Cancer Treatment, Chemotherapy)
Established and Emerging Markets
Mexico, Thailand, the Philippines, Costa Rica, or Panama are the first preference for dental and cosmetic services for Americans. India and SouthEast Asia are choices for orthopedic and cardiovascular treatments for their high-quality healthcare and a significant number of USA accredited hospitals.
The fall of the USSR has brought a band of patients into Poland from the UK and Hungary. However, the UK continues to have close ties with Spain, Malta, and Cyprus for example.
Dubai Healthcare Committee in the Middle East is attempting to grab the sector instead of losing them to cheaper Asian countries, by focusing on quality and performance rather than price
Potential Cost Savings Nations
Many pleased American patients reported savings of 25% to 75% in treatment in other countries. It can also go up to 90% depending on the kind of services availed. This list from Patients Beyond Borders gives an average overview of the savings. The list shows the most recent percentages and is calculated compared to US cost.
Brazil: 20-30%
Singapore: 25-40%
South Korea: 30-45%
Spain 30 – 70%
Taiwan: 40-55%
Mexico: 40-65%
Costa Rica: 45-65%
Turkey: 50-65%
Thailand: 50-75%
Malaysia: 65-80%
India: 65-90%
Conclusion:
Since 1999 the Joint Commission, which is a U.S. governmental body controlling medical standards within the US states, has been expanding overseas. Its international body is seeking out hospitals and clinics that look for standardization outside of the U.S.
With an international standard being followed including required follow-up treatment at home, the patients now worry less. Physicians and clinics can have patient data transferred and discussed more easily, and attract lucrative overseas clients once they get the seal of approval by the JCI. Although these statistics show favorable figures only and patients traveling abroad should research intensely about the facts, facilities, and services regarding U.S. accreditation. There are always risks involved in whether you are receiving surgery in the US or abroad. Therefore, reviewing the doctor's credentials and talking to the previous patients is highly recommended.