How Safe Is Gastric Sleeve Surgery?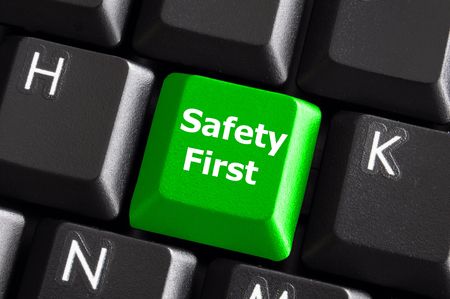 Gastric sleeve surgery involves the resection of the stomach to reduce its capacity and limit food intake. The stomach is reduced to about 10-20% with the aim of causing early satiety and inducing weight loss. This laparoscopic surgery is one of the safest and most effective bariatric surgeries.
Before talking about the safety of gastric sleeve surgery and other bariatric surgeries, we must ask ourselves a question: How safe is an obese/morbidly obese person? What is the quality of life of a morbidly obese person? How long will a morbidly obese person live without surgical intervention to achieve weight loss?
Fontaine et al. showed in their study that when compared with a normal weight individual; the reduction in life expectancy is 22% in a morbidly obese man of 25 years of age and this represents a 12-year reduction in life expectancy.
Cardiovascular diseases (myocardial infarction and stroke) have maintained the number one position on the list of the leading causes of death globally.2 Hypertension, dyslipidemia, and diabetes which are often associated with obesity and even obesity itself, are some of the risk factors for cardiovascular diseases. With most morbidly obese people suffering from one or more of these conditions, it is clear that they are at risk of heart disease and reduced lifespan. Obesity has also been associated with various types of cancers; another leading global cause of death.
Apart from weight reduction, one of the indications for the gastric sleeve and other bariatric surgeries is to achieve resolution of the obesity-associated comorbidities. Therefore if gastric sleeve can bring about the resolution of hypertension, diabetes, dyslipidemia, etc. and prolong life by preventing cardiovascular diseases and cancers, can we then say the surgery is not safe?
How Safe is Gastric Sleeve Surgery in Tijuana?
 Those looking to undergo
VSG in Mexico
can expect a safe and pleasant trip if they choose a qualified company like Renew Bariatrics. There is limited danger choosing companies with a longstanding reputation in Mexico.
Contact us today to learn more
.
Looking at the statistics of gastric sleeve surgery over a period of 5 years showed the increasing acceptance of gastric sleeve surgery which can be an evidence of its relative safety over other bariatric surgeries. The American Society for Metabolic and Bariatric Surgery reported that in 2011, a total of 158,000 bariatric surgeries were done in the United States. The commonest surgery was laparoscopic Roux-en-Y gastric bypass (a restrictive and malabsorptive procedure) which was responsible for 36.7% of all the surgeries. Gastric banding (a restrictive procedure) came second on the list with 34.5% while gastric sleeve surgery took a distant third position (17.8%) of all bariatric procedures in the United States in 2011.
In 2015, a total of 196,000 bariatric surgeries were done in the United States. However gastric sleeve surgery came first on the list, accounting for 51.7% of all the bariatric surgeries. Laparoscopic Roux-en-Y gastric bypass came second while gastric banding came third (23.1% and 5.7% respectively). This is a clear demonstration of the degree of effectiveness and safety of gastric sleeve surgery for the treatment of obesity over other bariatric surgeries.
A study conducted by Barzin et al. comparing the safety of gastric sleeve with gastric bypass over a 12 month period showed that the operation and anesthesia time was shorter for the gastric sleeve and the rate of early complications was also lesser in gastric sleeve surgery group (4.2% vs. 8%).
In another study conducted by Smith et al. a review of outcomes of bariatric surgeries in ten different centers over a period of 5years was performed. This was based on the fact that mortality (death) following bariatric surgery is rare and a single center (hospital) cannot draw any reasonable conclusion on the mortality associated with bariatric surgeries based her data alone. The number of patients that died within 30 days of surgery was recorded, and the causes of death analyzed. The ten centers are listed below:
University of Pittsburgh Medical Center (Pennsylvania), New York-Presbyterian Hospital (New York and New Jersey), East Carolina Medical Center (North Carolina), the MeritCare Health Systems through the Neuropsychiatric Research Institute (North Dakota), Sacramento Bariatric (California), University of Washington Medical Center or Virginia Mason Medical Center (Washington), and Oregon Health and Sciences University or Legacy Good Samaritan Hospital (Oregon).
Among 6, 118 patients who had their first bariatric surgery, 18 deaths (0.3%) were recorded within 30 days post-surgery. Sepsis was number one on the list of the causes of death. This was closely followed by cardiac and pulmonary causes respectively. However, only two deaths out of the 18 deaths occurred following gastric sleeve surgery. This demonstrated the safety of gastric sleeve surgery.
In conclusion, obesity itself constitutes a risk for any surgery. Delay in postoperative recovery from anesthesia and poor wound healing are some of the unwanted events associated with obesity. Thus, the safety of gastric sleeve surgery can only be understood in the context of the risks associated with obesity and its comorbidities and the benefits that would be derived from gastric sleeve surgery. Any risk attributed to gastric sleeve surgery can also be presumed to be marginally due to obesity itself and not the surgery.
Resources
Bibliography
Fontaine KR, Redden DT, Wang C, et al. Years of life lost due to obesity. JAMA. 2003;28(9):187–93.
World Health Organization. Cancer. 2017. Available at: http://www.who.int/mediacentre/factsheets/fs297/en/Accessed 26 Jul. 2017.
Estimate of Bariatric Surgery Numbers, 2011-2015 – American Society for Metabolic and Bariatric Surgery. American Society for Metabolic and Bariatric Surgery. 2017. Available at: https://asmbs.org/resources/estimate-of-bariatric-surgery-numbers. Accessed August 5, 2017.
Barzin M, Khalaj A, Motamedi MA, Shapoori P, Azizi F, Hosseinpanah F. Safety and effectiveness of sleeve gastrectomy versus gastric bypass: one-year results of Tehran Obesity Treatment Study (TOTS). Gastroenterology and Hepatology From Bed to Bench. 2016;9(Suppl1):S62-S69.
Smith MD, Patterson E, Wahed AS, et al. 30-day Mortality after Bariatric Surgery: Independently Adjudicated Causes of Death in the Longitudinal Assessment of Bariatric Surgery. Obesity surgery. 2011;21(11):1687-1692. doi:10.1007/s11695-011-0497-8.
Interested in undergoing Bariatric Surgery in Mexico? Learn from our patient educators just how safe bariatric surgery in Mexico is, contact us today!
[maxbutton id="3″]