While weight loss surgery is, by far, the most effective way to lose weight, there has been much hype surrounding weight loss injections. Semaglutide (also known as Ozempic) is a commonly prescribed medication for individuals struggling to lose weight as an aide to help them meet their goals. Other the weight loss injections include: Wegovy (semaglutide), Mounjaro (trizepatide), Trulicity (dulaglutide), and Rybelsus (semaglutide).
However, using semaglutide in this manner is still relatively new, and the lasting effects are still unknown. Those deciding between weight loss surgery and weight loss injections should research their options carefully to help them choose the correct method for their situation.
What Are Some Other Factors To Consider With Semaglutide?
Like phentermine, there are several factors to consider when taking semaglutide for weight loss.
Users may need to remain on semaglutide long-term to maintain their weight loss, leading to ongoing issues regarding cost and availability.
Some medications are becoming more challenging to locate, and shortages are becoming more common. If these patterns continue, semaglutide may also become hard to find in the future.
Semaglutide for weight loss is not meant for treatment of severe obesity and semaglutide isn't a great option for treatment of obesity – when compared to bariatric surgery (Semaglutide is an option for those whose BMIs are less than 40).
Semaglutide has considerable side effects when compared with bariatric surgery.
Semaglutide is much more costly compared with bariatric surgery.
FDA Approvals: Ozempic for Weight Loss, Wegovy for Weight Loss, and Saxenda for Weight Loss.
Weight Loss Injections:
Semaglutide is technically an injectable for people with diabetes to manage their blood sugar levels. However, many users noticed an exciting side effect over the years – weight loss. After making healthier lifestyle choices and controlling their diabetes, they began to lose weight easier than before. Since then, semaglutide has grown in popularity with the help of social media and celebrities.
What Is Semaglutide?
Semaglutide is sold under the brand names: Ozempic, Rybelus (tablet) and Wegovy.
What is Tirzepatide?
Tirzepatide works similarly to semaglutide by slowing down digestion. Tirzepatide is sold under the name Mounjaro.
What is Dulaglutide?
Dulaglutide is an injection that induces weight loss by improving blood sugar levels. Dulaglutide is sold under the the name Trulicity.
Semaglutide vs Weight Loss Surgery
A study published in 2021 examined the efficacy of semaglutide on overall weight loss. This study included 1,961 participants sorted into randomized groups. These groups were also double-blinded, meaning the researchers nor the participants knew who was given the drug or the placebo. In addition, some participants participated in lifestyle intervention, while others did not.
Most of these participants were older women with an average weight of 231 pounds. After one year and four months, the average weight loss experienced by participants was 33.7 pounds, with the majority of weight loss occurring among those taking semaglutide.
Before semaglutide, phentermine was the weight loss drug of choice for many, resulting in similar success for users. However, phentermine users can only take the medicine for a short time as it does not have approval for long-term use. When people stop taking phentermine, weight regain is possible and highly likely.
Likewise, semaglutide is no different. After you stop taking Ozempic or semgltuide most of weight comes back. In addition, cardiometabolic improvements will revert back to your normal state.
One year after withdrawal of once-weekly subcutaneous semaglutide 2.4 mg and lifestyle intervention, participants regained two-thirds of their prior weight loss, with similar changes in cardiometabolic variables

https://pubmed.ncbi.nlm.nih.gov/35441470/
Semaglutide vs Bariatric Surgery: Expected Weight Loss
Many people considering weight loss surgery may also wonder whether injections are a better option for them. As it stands, weight loss surgery is by far the most effective way to treat obesity today. Gastric sleeve surgery is the most popular weight loss option and accounts for up to 80% of all weight loss surgeries that take place.
When comparing averages, most people who undergo gastric sleeve surgery lose at least 68 pounds, while those who take semaglutide lose around 33.7 pounds.
These results mean the weight loss surgery group lost twice as much weight as the weight loss injections group. Therefore, you can determine that weight loss surgery is much more effective for achieving long-term weight loss.
Semaglutide vs Bariatric Surgery: Side Effects
Like all medical procedures and interventions, there are some side effects to consider with both semaglutide and weight loss surgery. First, although weight loss surgery is minimally invasive, it is still a medical operation. The main long-term side effects associated with weight loss surgery are heartburn and acid reflux symptoms. These side effects appear within about 20% of all weight loss surgery patients.
On the other hand, approximately 74% of all semaglutide users will experience at least some unwanted side effects. The main issues with semaglutide include:
Dizziness
Fatigue
Gastrointestinal issues, such as diarrhea, constipation and gassiness
Headache
Stomach issues, including nausea, vomiting, pain or distension (bloat)
Semagultide Common Side Effects by Dose:
The U.S. Food and Drug Administration (FDA) trials of Ozempic found the following rates of side effects:
Side effects from Semagultide (Ozempic) 1 milligram (mg) dose:
Nausea: 20.3 percent
Vomiting: 9.2 percent
Diarrhea: 8.8 percent
Abdominal pain: 5.7 percent
Constipation: 3.1 percent
Smaller numbers reported symptoms such as acid reflux and excessive belching or flatulence.
Semaglutide (Wegovy) at 2.4 mg in people without diabetes:
Nausea: 44.2 percent
Vomiting: 24.8 percent
Diarrhea: 31.5 percent
Abdominal pain: 10.0 percent
Constipation: 23.4 percent
In addition, like all surgeries, there is some risk of blood clots and leaks. However, selecting a highly qualified surgeon to conduct your weight loss procedure will help mitigate your risks. Your risk for severe side effects is very low when selecting a highly regarded bariatric surgical center and physicians.
Cost of Semaglutide vs. Bariatric Surgery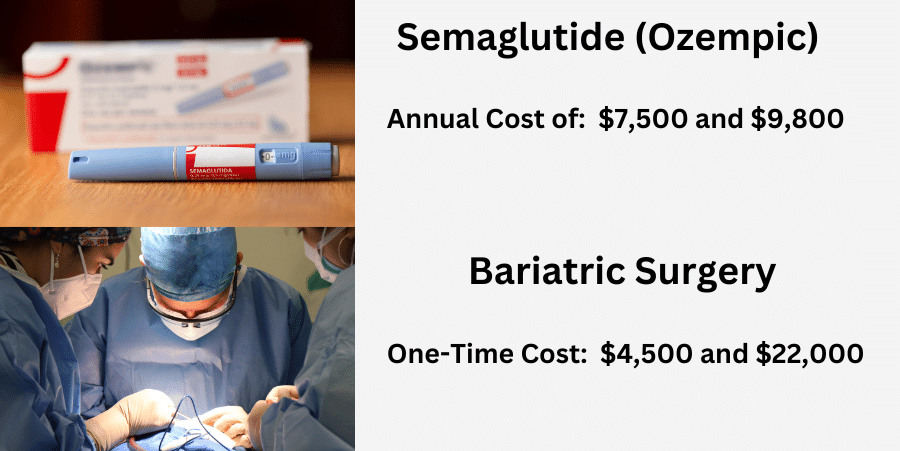 Cost is a primary factor for most people when considering which type of weight loss intervention to choose. Unfortunately, the majority of insurance companies will not cover weight loss medications. While a generic form of phentermine is on the market, it can be more challenging to find. Because semaglutide is a patented medication, there is no generic form of the drug, and it is pricey for most people. One month of semaglutide, when paid out of pocket, can cost upwards of $1000. In addition to this expense, users must remain on semaglutide long-term to prevent weight regain. When calculating the cost, the average user may spend over $120,000 to remain on semaglutide for ten years.
Without insurance the monthly cost for Ozempic is roughly $975*
Bariatric Surgery Costs: $4,500 to $22,000
Priced on November 1st, 2023 via GoodRx.com
Although weight loss surgery can also be expensive, scheduling your procedure in Mexico can make it more affordable. There is usually a one-time cost associated with weight loss surgery, and the effects are long-term. In addition to the significantly lower price, patients can expect twice the amount of weight loss with fewer side effects when selecting a high quality weight loss center and team of medical professionals.
Final Thoughts
Consider bariatric surgery if you're looking for a long-term weight loss solution with minimal side effects. Not only can you expect to lose twice the amount of weight you would lose on injections, but you won't have to remain on the costly medication that may strain your finances over time.
In addition, bariatric surgery is the only obesity treatment that may provide weight loss permanence.