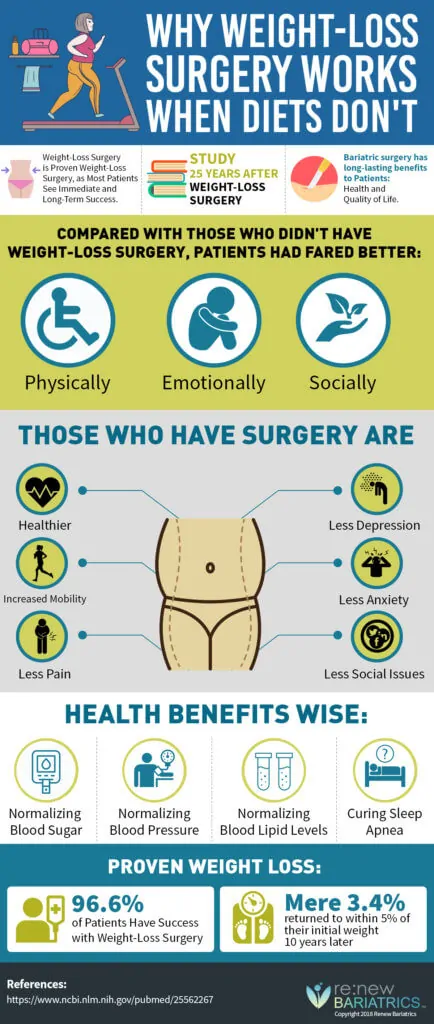 Weight-Loss Surgery is Proven Weight-Loss Surgery, as Most Patients See Immediate and Long-Term Success.
Most physicians are settled on the effectiveness of bariatric surgery. Most see bariatric surgery as a proven, helping over 90% of patients, in reducing their obesity and levels of diseases and conditions.
Bariatric surgery effectiveness is varied on the different weight loss surgeries; not all bariatric surgeries will have the same effects for all individuals. Bariatric surgeries that will have the most significant impacts are ranked in order of effectiveness:
Bariatric surgery has long-lasting benefits for Patients':
– Health and Quality of Life.
Compared with those who didn't have weight-loss surgery, patients had fared:
-Physically
-Emotionally
-Socially.
Those who have surgery are:
– Healthier
– Less Mobility
– Less Pain
– Less Depression
– Less Anxiety
– Less Social Issues
Health Benefits Wise:
Normalizing Blood Sugar,
Normalizing Blood Pressure,
Normalizing Blood Lipid Levels
Curing Sleep Apnea
Proven Weight Loss:
96.6% of Patients Have Success with Weight-Loss Surgery
-Mere 3.4 percent returned to within 5 percent of their initial weight ten years later
References:
https://www.ncbi.nlm.nih.gov/pubmed/25562267