Best Bariatric Surgery Books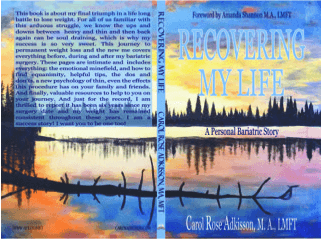 Information is power not only for individuals preparing to undergo bariatric surgery but for those around them as well. Bariatric surgery for weight-loss is a major surgery that entails significant lifestyle changes, and prior to the surgery, patients must learn how to make nutritional and lifestyle alterations from scratch along with learning how to cope with the emotional impact the surgery may have on them and their loved ones. Therefore, learning how to prepare in advance so one can be mentally and physically ready is important to ensure a successful weight loss outcome.
Bariatric patients can prepare for surgery in several ways. The most important being to start with preoperative education months before surgery. Research shows that the education that patients receive before surgery has significant positive effects on surgery outcomes in terms of increased overall patient satisfaction, reduced problem incidence and improved quality of life.
When a bariatric patient starts a pre-surgery education program, they know what is expected of them before surgery, the doctors take their time to help them understand the actual surgical process and what to expect afterward, and in return, patients can learn what to expect after surgery in terms of rehabilitation and medication.
Bariatric patients must also undergo preoperative counseling before undergoing obesity surgery to help them understand that not only should the surgery be a quick weight loss fix for them, but a part of a multidisciplinary approach to weight loss in that they are required to make lifelong changes to their diet and exercise habits to ensure a lasting result after bariatric surgery.
Behavioral therapy is also a crucial part of bariatric surgery patient's preparations. Patients undergo a psychological evaluation with a behavioral therapist who assesses their social, personal, and psychiatric history so as to determine whether they are prepared to change their diet and exercise plan before and after bariatric surgery. The therapist is also able to uncover other physical and psychological conditions such as undiagnosed or untreated mental or mood disorders such as depression and schizophrenia or a history of substance abuse and alcohol use – all, which can decrease the chances of a successful bariatric surgery.
In addition to the physical preparation, bariatric patients can find solace in reading inspirational bariatric books to help them cope before and after surgery. While reading is not many peoples' forte because it serves as a reminder of the unpleasant time they spent studying for school exams, these books are beneficial to read because they prepare patients for this major change before surgery and then continue to inspire and motivate them after surgery.
Bariatric Books to Read Before Surgery
The Emotional First-Aid Kit – A Practical Guide to Life After Bariatric Surgery
This book by Cynthia Alexander comes highly recommended because it serves as a practical guide to help bariatric patients learn how to change the thoughts, attitudes, and modify unhealthy behaviors that keep them from being successful in their weight loss journey.
It also offers unique strategies of dealing with the psychological difficulties surrounding major weight loss often experienced before and after surgery.
Gastric Sleeve Weight Loss Surgery – Your Complete Guide to Losing Weight with Bariatric Surgery by Jim Hunter
Deciding whether weight loss surgery is the right thing for you can be unnerving. This book is a comprehensive guide for anyone considering bariatric surgery but is uncertain which is best for them. It will help bariatric patients make an informed decision as it covers all the different types of weight loss surgeries available to them, their benefits, risks and what they can expect before, during, and after surgery.
Weight Loss Surgery for Dummies by Marina Kurian
This book has been referred to as "the Bible of weight loss surgery" for a good reason. It has everything you need to know from all the different types of procedures available, to who the ideal candidate is and for which procedure, the physical and emotional changes you face before and after surgery, relationship changes to be expected from spouses, family, and friends, it even sheds light on insurance policy to make sure you are covered for the procedure you want to undergo.
Bariatric books to read after surgery
Back on Track After Weight Loss Surgery by Thomas Clark
Weight gain after bariatric surgery is not uncommon and can occur in about half of all patients within 2 years. Thomas Clark addresses this issue and gives a lot of helpful advice that is often not provided to patients after surgery such as how to prevent stress from sabotaging your weight loss or how to understand what your meal process should be and how to manage hunger.
The Success Habits of Weight loss Surgery Patients by Colleen Cook
Due to its success, the research-based principles in this book are now taught in numerous bariatric programs all over the world and are recommended by many Bariatric Centers of Excellence, surgeons, and bariatric health professionals. This a great must-read for both before and after surgery as well as for weight loss surgery patients who have had regained weight and need to get back on track.
Recovering My Life – A Personal Bariatric Story by Carol Rose Adkisson
Written from the perspective of a patient and clinician, Recovering My Life – A personal bariatric story is a raw reflection of weight loss using bariatric surgery as a tool.
The book explores the emotional reasons for compulsive overeating and reveals the rarely shared truth from this writer's perspective.
Carol Rose Adkisson has written a thorough guide to bariatric surgery on Medium.
Every weight loss journey is different. These books can be your guide.
Weight loss surgery is a big decision, and there are no boundaries as to what you can learn when it comes to a life-changing procedure like bariatric surgery. One mistake that most patients make is that once they are approved for surgery, they don't put that much effort in reading, doing research or learning more about the procedure or how to best improve their lives.
The weight will most certainly come off after the surgery, but the journey does not end there. Bariatric surgery is only the means to help you lose weight, but a patient will need a more effective support system to help them keep the weight off and lead a healthy, wholesome life after surgery. Here are examples of some weight loss books that offer helpful information for bariatric patients.